Insulation Processing Machine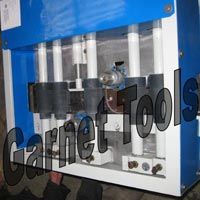 Business Type
Manufacturer, Exporter, Supplier, Retailer, Wholesaler
Weight
(100-500kg
Voltage
230V
Operating Type
Automatic Grade(Automatic
Click to view more
We have been into manufacturing Insulation Processing Machine and machinery for machinery for pressboard, fibre glass and densified wood industry for more than 20 years. We have developed Insulation Component Making Machinery with cutting, pressing and milling facilities for making components out of wood and pressboard. We follow ISO 9001:2008 design procedures for the best quality and promise of best output.

Details :
Heavy Duty Cast Iron Body
High Speed Spindles
Precision Cut CNC made tooling
Made as per customer specifications
Bellow or Guards or Safety Measures for operation safety

We Offer :
Automatic double side grooving and T-slot making machine For T-Block, edge rounded block making, spacers. This machine is automatic having hydraulic feed and clamping works on high precision linear guide and can cut upto 15000-20000 pieces a day in one shift
Edge rounding, dovetail strip making machine: For rounding of edges, dovetail strip making and T-strip making machinery
CNC router for circle cutting: For cutting circles outer diameter and inner diameter
Angle cutting for dovetail strip cutting: We have designed a special machine to minimize wastage in dovetail strip making by a special angle arrangement for strip making
Heavy Duty Rip saw machine for strip making. For cutting multiple strips as a time from a pressboard sheet
Panel or Beam Saws : For cutting densified wood and pressboard sheets
Strip pasting machine: This machine can glue, paste and press strips at varied distances and of different length as per requirement. This machine will provide high accuracy and will reduce operator dependence in pasting
Surface planning, threading, round turning, finishing, gluing, pressing systems and various other high performance wood working machines modified for pressboard, densified wood and transformer industry requirements
Looking for "
Insulation Processing Machine

" ?
Piece